Cosmetic Laser Safety Kit
For employers/supervisors/LSOs
who need a Laser Safety Program
without having to do develop it themselves
by using our Laser Safety Kit
Get Your Kit
Do you need a Laser Safety Program at your facility?
If you work around industrial laser equipment, the answer is definitely yes.
This includes any of the following:
What do you do when you find out you need a Laser Safety Program?
Do you have the training material on hand?
Are you familiar with all of the OSHA and ANSI standards?
Do you have someone in house that can maintain the documentation?
What about when you have an influx of new hires?
Here's the problem:
0
+ pages
Between the ANSI & OSHA standards, there are hundreds of pages of protocols and operating procedures to follow.
0
+ hours
If you're anything like us, you don't like the idea of sending you team off to classroom training that cost thousands. You definitely don't want to loose a week of productivity from your best team.
The answer is the Laser Safety Kit.
We've done the work for you by developing a plug-and-play Laser Safety Program.
Its the premier team training solution that automates the teaching, certification, documentation of your laser safety program.
It is documented OSHA compliance in your organization.
0
steps
It's as simple as this:
1. Review the contents of the Kit
2. Use it to train and certify your employees
3. Document and administrate your new Laser Safety Program
What do you get with the kit?
The LSO kit is a binder full of important documents to assist your company with its laser safety training program.
If OSHA ever visits your facility, you can pull out the binder and show them your training program and student compliance log.
100% OSHA Compliant

In-House Training

Digital & Hardcopy

ANSI Standard Z136.3

Up to and including Class 4 Lasers
Cosmetic Laser Safety Kit - $349
Your Laser Safety Kit has all of the documents you need to train and document your employees.
LSO Refresher document that highlights the most important details of the course
A paper copy of the laser safety course along with student note handouts
Paper copies of the exam to hand out to students, as well as the answer key
Student compliance log showing the date each employee took the course
Paper copies of successful completion certificates to keep on file for each student
Copy of the Laser Safety Section of the OSHA Technical Manual
AND most useful of all, a USB drive of all the important documents and the course in PowerPoint format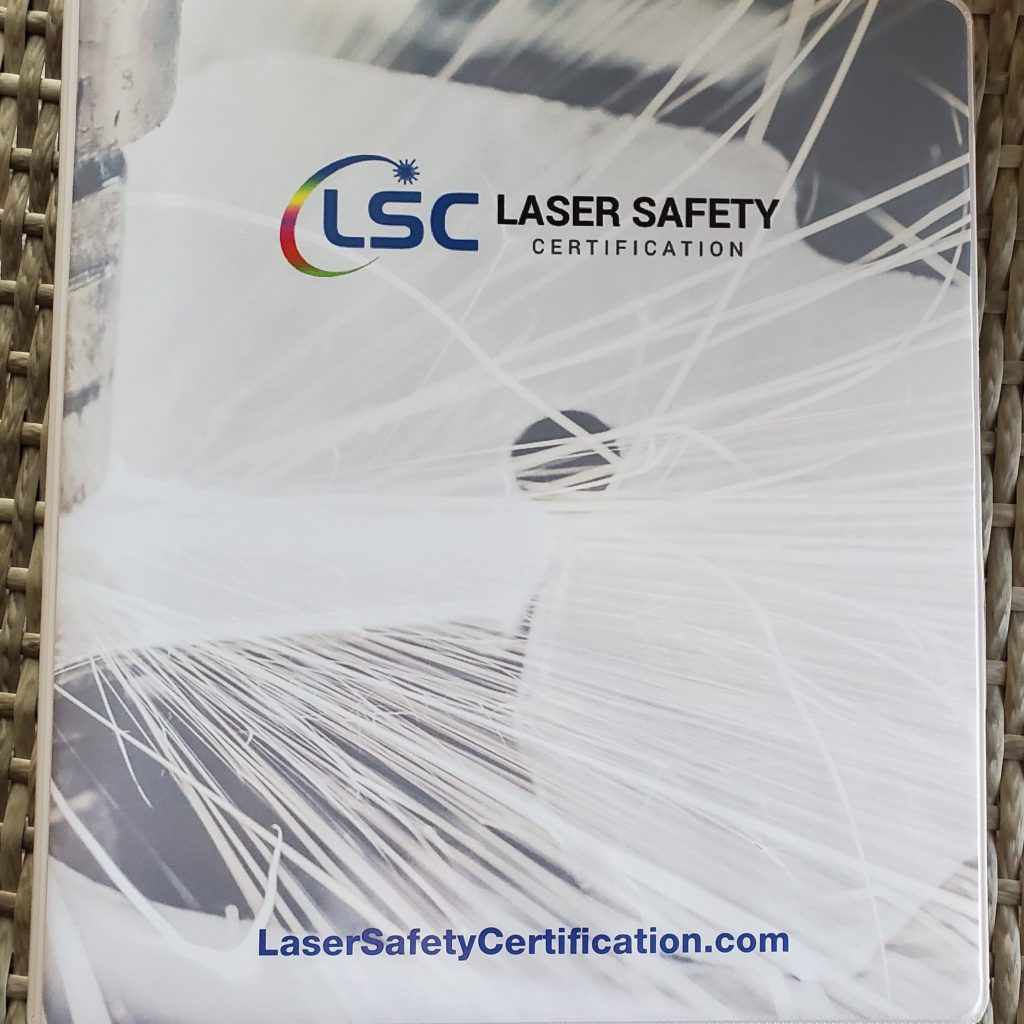 Bundle and save by selecting our LSO Course + Kit!
Get everything you need to develop a full laser safety program at your organization.
You get access to full Laser Safety Officer Online Course AND the LSO Kit.
If purchased separately, the LSO Certification + Kit are valued at $548
Ordering the bundle saves you an additional $99
Order Bundle - $449 - ADD TO CART
We also offer a Video Version of the Kit Bundle
When you order the LSO Video Certification and the Kit, you save $99!
You get access to the online Laser Safety Officer Video Course AND the LSO Kit.
If purchased separately, the LSO Video Certification + Kit are valued at $598
Order Bundle - $499 - ADD TO CART