Industrial Laser Safety is no Joke!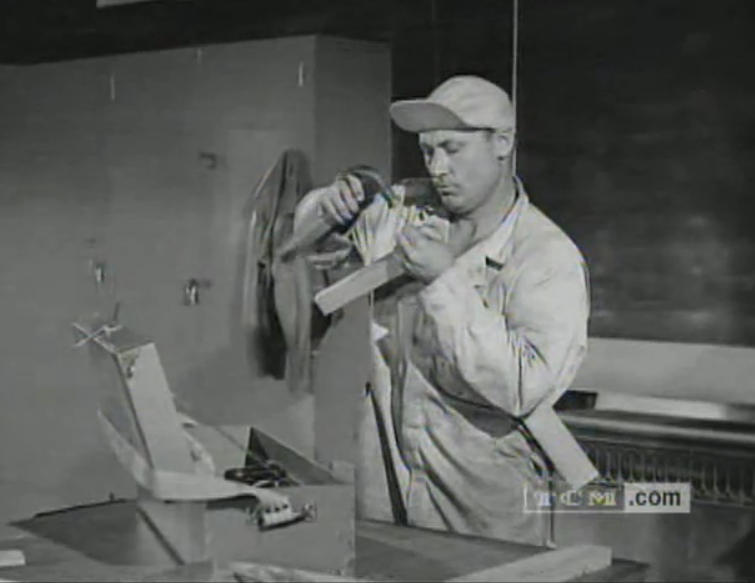 [video src="https://www.doctormacro.com/Film%20Clips/M/MGM%20Shorts/MGM%20Short%20-%20Wrong%20Way%20Butch%20(Pete%20Smith).mp4" /]
Industrial Safety Evolves from Comedy through to OSHA
Industrial safety has come a long way since the 1950's. It seems that the lack of workplace safety was a serious enough issue that Hollywood was enlisted by the US Department of Labor to produce "training" films for worker safety. Part comedy and part training, these films served to illustrate basic safety practices to remind viewers that every tool and every operation had both a right way and wrong way to be safe.
This Pete Smith Specialty short titled Wrong Way Butch was Oscar nominated in 1950 and was part of a series of equally comical short films showing the wrong way to solve various problems. [1]
There was little safety regulation in the workplace for most of the Twentieth Century. America's mass producing mentality called for much machinery work, which in turn heightened the risk for many American employees.  However, nothing was done to ensure their well-being.  In fact, for most employers, it was easier and less expensive to replace a dead or injured worker than it was to introduce safety measures.
The OSHA Act of 1970
Fortunately, the workplace has progressed and with the Occupational Safety and Health Act of 1970, Congress created the Occupational Safety and Health Administration (OSHA) with the mission: "…to ensure safe and healthful working conditions for workers by setting and enforcing standards and by providing training, outreach, education and assistance." [2]
The OSH Act covers most private sector employers and their workers, in addition to some public sector employers and workers in the 50 states and certain territories and jurisdictions under federal authority. OSHA's aim is to provide employees with an environment free of hazards like toxic chemical exposure, excessive noise levels, mechanical dangers, heat or cold stress, or unsanitary conditions has been effective.
OSHA History and Evolution
OSHA opened its doors on April 28, 1971. During its initial decade, OSHA issued the first standards for asbestos, lead, carcinogens, and cotton dust. The OSHA Training Institute, safety and health training grants, the On-Site Consultation Program, State Plans, and whistleblower protections for workplace safety are also established.
The 1980s saw OSHA issues standards to give workers the right to know which chemicals they may be exposed to and require employers to provide worker medical and exposure records. That decade also saw the creation of the Voluntary Protection Programs, new standards on safety testing and certification of workplace equipment, and important worker protections for combustible grain dust, trenching, noise, and hazardous energy.
In the 1990s, OSHA issues the Process Safety Management standard and provides new and stronger protections for workers from falls, blood-borne pathogens, toxic substances, and working in confined spaces, long-shoring and marine terminals, and laboratories. Workers begin to receive safety and health training through the first OSHA Education Centers, and the agency expands collaboration with employers through its Strategic Partnership Program.
The 2000s saw dedicated OSHA staff working beside their federal, state, and local partners to protect the safety and health of the recovery workers after the unprecedented challenges America's workers faced following the 9/11 terrorist attacks and Hurricane Katrina. Workplace safety continues to improve through new standards to protect construction workers in steel erection and prevent exposure to hexavalent chromium.
The 2010s saw OSHA help protect workers performing response and cleanup activities in the aftermath of the catastrophic Deepwater Horizon explosion and oil spill. The agency issues standards for silica dust, cranes, confined spaces, and the classification and labeling of work-related chemicals. To address the number one cause of worker fatalities in the construction industry, OSHA launches the fall prevention campaign. And in 2020, OSHA launches historic response to protect workers during the COVID-19 pandemic. [3]
Where to go for more information
OSHA information for state approved plan coverage: https://www.osha.gov/stateplans
For industrial safety online training and certification for a range of topics: https://www.certifyme.net
How Laser Safety Certification can help
At Laser Safety Certification, we have laser safety courses and Laser Safety Officer certification programs to make sure your team are correctly using lasers and your customers are protected.
We have laser safety certification courses for Industrial, Cosmetic or Medical/Healthcare and Veterinary laser users. We also have Laser Safety Officer certification courses to help organize your company laser safety program. We base this training on the current OSHA Technical Manual sections that apply to laser hazards. We can also provide laser safety kits and bundles to help your LSO administer your laser safety program to protect your team as well as your customers.
Click here to enroll your company to get started today. Or check out our FAQ section for common answers about our courses, certification options and kit offerings, and get started by enrolling your company today.  You can always email us at info@lasersafetycertification.com if you want more information about how we can help your business use lasers safely while protecting your employees and customers.
Sources
[1] Wrong Way Butch film link: https://www.doctormacro.com/Film%20Clips/M/MGM%20Shorts/MGM%20Short%20-%20Wrong%20Way%20Butch%20(Pete%20Smith).mp4
[2] OSHA's Mission: https://www.osha.gov/aboutosha
[3] OSHA at 50: https://www.osha.gov/osha50
Lot's of other OSHA information and other resources can be found at https://www.osha.gov/
Image Credit: Wrong Way Butch