Laser Tattoo Removal Myths – True or False?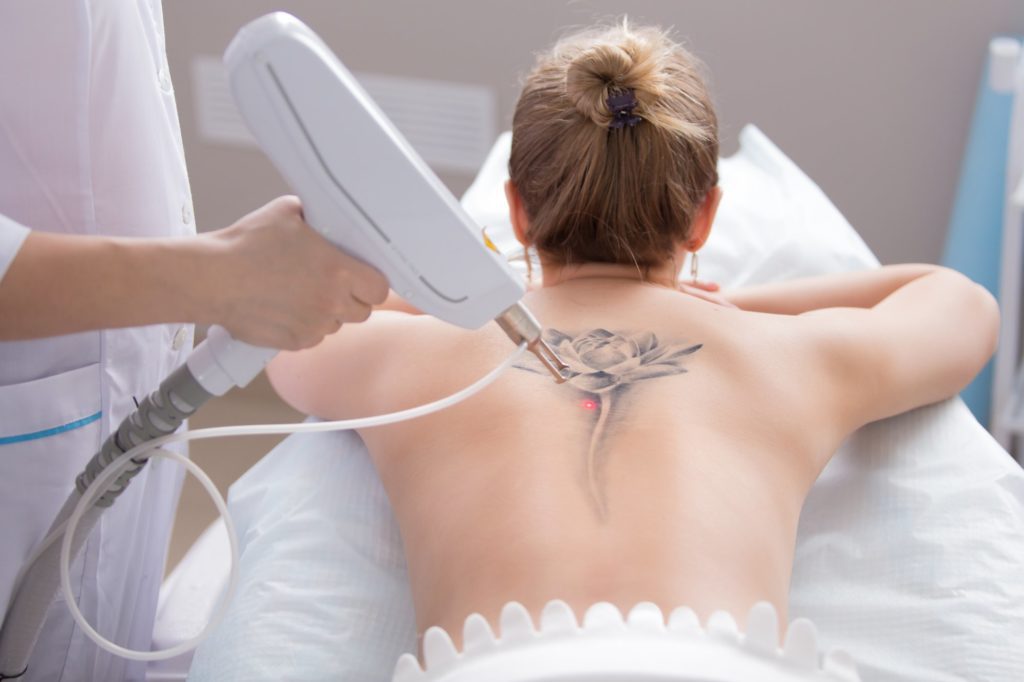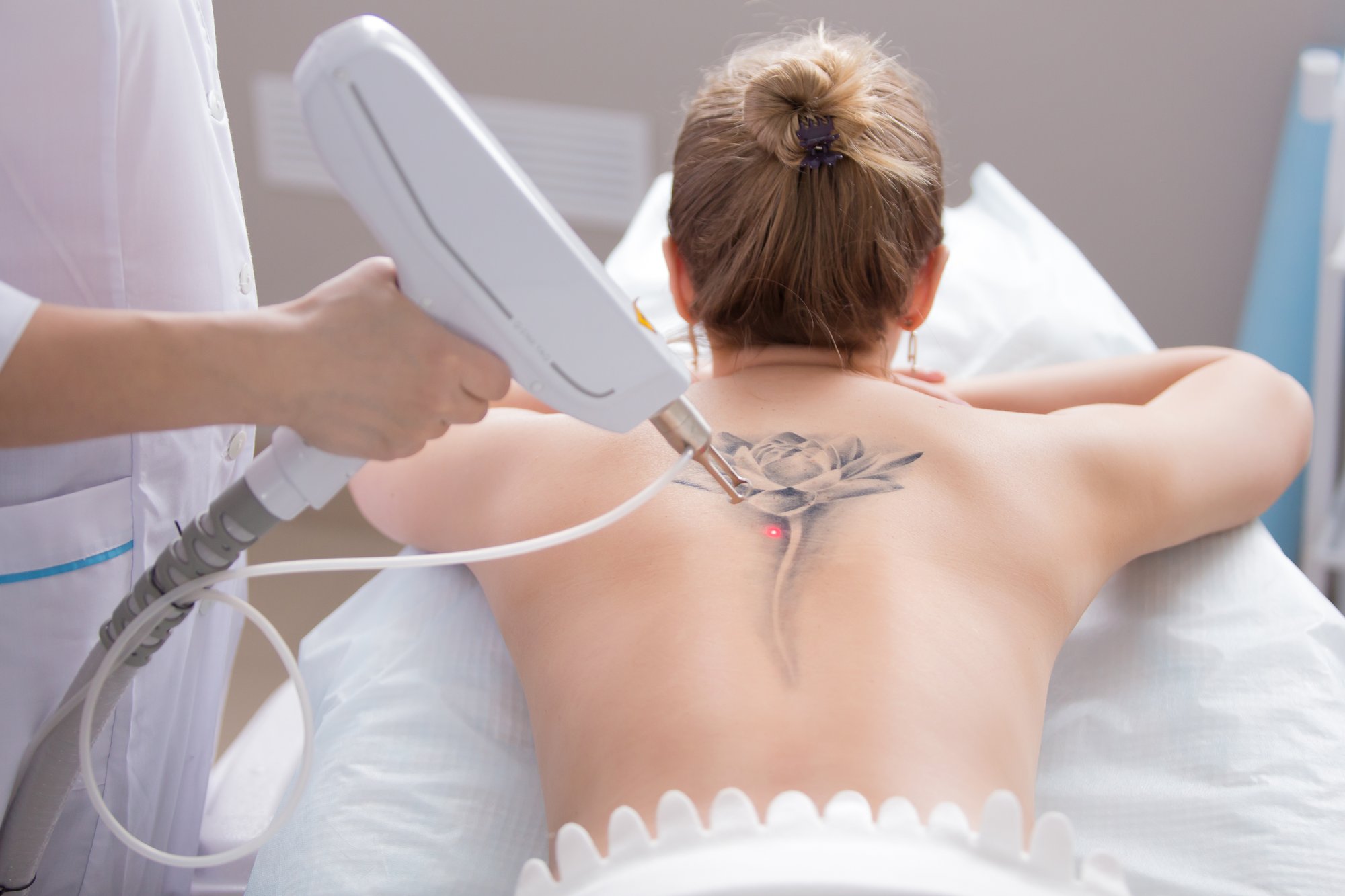 Rethinking that ink? If you're not as in love with your tattoo as you once were, laser tattoo removal is a generally safe (albeit expensive) way to get the job done.
Between our increased access to laser removal and the candidness with which celebrities showcase their use of it on social a permanent tattoo feels like less of a commitment. But they're not like magic erasers—there's more to it than you may think.
Though lasers are helpful, efficient, and effective when it comes to tattoo removal, there are a bunch of misconceptions about what they can (and can't) do. Before you willingly get that questionable song lyric etched into your forearm—or take the plunge to have something old removed—here's what you should know about the laser process first.
Myth #1: It's safe to get laser removal done anywhere it's offered.
Though laser centers and spas are popping up everywhere, it's important to make sure laser removal is done by a dermatologist.. It's up to you to check the qualifications of your practitioner. New Jersey is the only state that requires licensed physicians to operate a laser, meaning that in most places, the path to offering laser removal has fewer roadblocks than it should.
Myth #2: Laser removal is a simple, quick, reliable, and easy solution to a bad tattoo.
The big misconception with tattoo removal is that it's an eraser, it's a process. Sometimes, complete removal of a tattoo can take one or two years, with treatments occurring every 6, 8, or 12 weeks. Plus, it's not like getting your eyebrows waxed—it's an invasive procedure that costs hundreds of dollars a session. Lasers remove tattoos by blowing up pigment molecules into tiny pieces, which are then cleared away by an immune system response. Healing from laser treatment isn't always a walk in the park, either. The laser breaks the skin's surface, so you have bleeding, you have swelling, and you have pain after the treatment.
Myth #3: It isn't painful to have a tattoo removed.
Laser tattoo removal can be painless, but that's usually because practitioners can give you a numbing agent first. For larger tattoos where the removal process takes longer, a doctor can give you a lidocaine injection to numb the area, whereas a non-medical professional might not. Smaller tattoos are technically just as painful to remove, as the laser settings reflect the color of the tattoo rather than its size. However, the pain you'd endure removing a small tattoo is less ongoing than that which you'd feel while removing a large tattoo, making it more bearable for some.
Myth #4: Laser removal is safe for everyone.
Not everyone is an ideal candidate for laser removal. Removal is always going to be more difficult in patients who have a darker skin tone based on laser physics and the way the laser works.  The laser targets pigment that's in the dye, but at the same time, it can also target melanin in your skin. So, the darker your skin, the more complicated it will be to utilize a laser to remove the tattoo. Laser removal can cause burns and hyperpigmentation in darker skin tones.
Myth #5: All tattoos are equally easy to remove.
Not all tattoos are created equal. Black tattoos are easier to remove than brightly colored tattoos. Green and blue tend to be a little more challenging, and things like yellow, white, and purple are almost impossible to remove completely. Different wavelengths of laser target different colors in the skin. This is why multiple lasers are required for the successful removal of a multicolor tattoo—another reason to see a well-versed doctor for treatment. If you have laser removal done properly, you should see about 90 percent clearance on a tattoo. You can't be sure that you're going to get 100 percent clearance on a tattoo, and that's for a variety of reasons, including the type of ink and if the tattoo was done by a professional tattoo parlor. Professional tattoos tend to incorporate more colors and deposit more deeply into the dermis, making them more challenging. Amateur tattoos tend to be easier to remove, as they are often carbon-based, single-color, and placed more superficially. The same goes for older tattoos, where the ink diffuses upward over time, making it easier to break up with a laser.
Myth #6: If you had no reaction to getting a tattoo, you'll have no reaction to getting it removed.
It's possible to have a smooth healing process after getting your tattoo, but still a poor reaction to laser removal. For one, lasers can cause scarring and permanent skin discoloration that tattoos might not (aside from doing so in the obvious ways, of course).
A systemic reaction puts a patient at risk for anaphylaxis, which is life threatening. Alternative removal methods for people with allergies include surgically cutting the tattoo out or removing it with an abrasive laser, which removes the top layer of skin.
Nearly 30% of people in the U.S. have at least one tattoo. Almost half of all millennials have one. But not all of them are happy about their decision. As many as 25% of those with a tattoo say they regret getting it.
If you're in that 25%, there is good news. Laser tattoo removal techniques can get rid of your unwanted tattoo with minimal side effects.
Side Effects
Laser treatment is often safer than many other tattoo removal methods, such as excision, dermabrasion or salabrasion because laser treatment selectively treats the pigment in the tattoo. And there are very few side effects. However, you should consider these factors in your decision:
Your tattoo removal site is at risk for infection. And there is a slight chance that you will have a permanent scar.
It's unlikely that your tattoo will be completely removed. In many cases, certain colors may be more effectively removed than others. Blue and black tattoos, for example, respond well to laser treatment.
You may end up with hypopigmentation, which means the skin that is treated is paler than the skin surrounding it. You could also have hyperpigmentation, which leaves the affected skin darker than the rest of your skin.
Cosmetic tattoo procedures like lip liner, eyeliner, and eyebrows may actually get darker after treatment. They do tend to fade with additional sessions.
To ensure you get proper treatment and care, find a reputable dermatologist or cosmetic surgery center. If possible, get a recommendation from your primary care physician for a dermatologist or skin surgery center that specializes in tattoo removal.
Since tattoo removal is a personal option in most cases, most insurance carriers won't cover the process unless it is medically necessary. Physicians or surgery centers practicing tattoo removal may also require payment in full on the day of the procedure. If you are considering tattoo removal, be sure to discuss associated costs up front and obtain all charges in writing before you undergo any treatment.
To learn more about safety during laser tattoo removal
It is important that cosmetic and healthcare organizations have a Cosmetic Laser Safety Officer to provide employee training for the proper handling of laser equipment. Cosmetic Laser Safety Officer training and certification for key staff members and laser safety training for all employees that use laser enabled devices is an important part of any safety program. An ongoing LSO training program will ensure that all employees stay up to date.
At Laser Safety Certification, we have Cosmetic Laser Safety and Cosmetic LSO Certification courses for your cosmetic laser technicians and tattoo removal technicians to use to make sure they are safety using laser equipment around your customers. more information and get certified today. Start by enrolling your company and get certified today.
We also have an FAQ section with common answers about our courses, certification options and kit offerings for your LSO to administer your own safety program. Or send us an email at info@lasersafetycertifiction.com if you want more information about how we can help your business use lasers safely while protecting your employees and your customers.