Medical Laser Safety in the Operating Room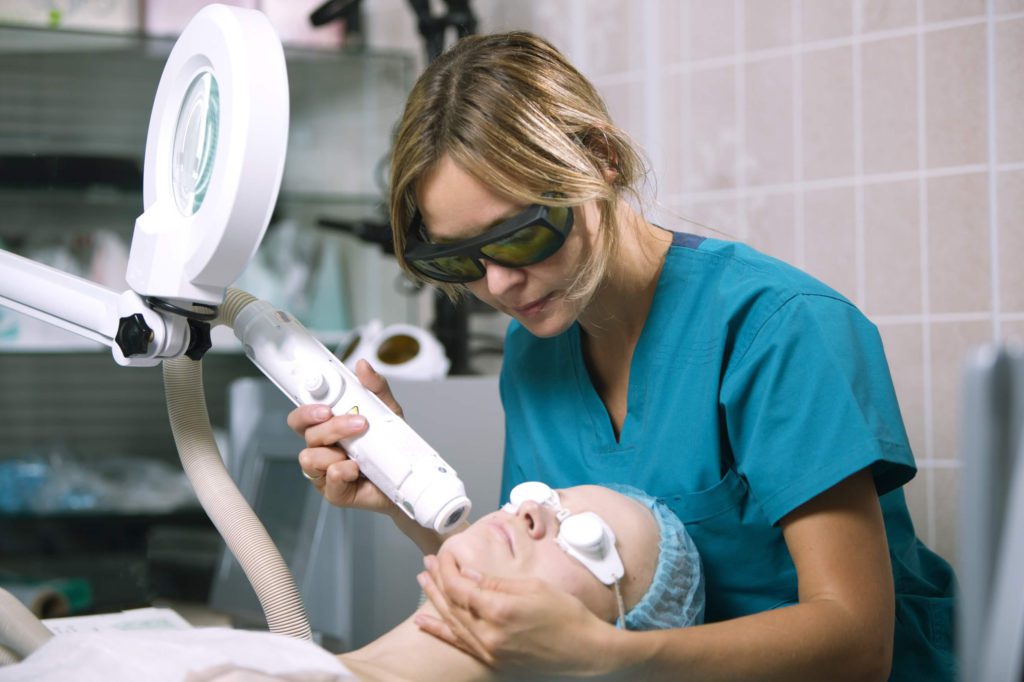 Of paramount importance is taking all appropriate safety precautions where laser surgery is performed. Not only for patients but medical personnel as well.
Laser procedures, care and maintenance should be well documented and easily located. All health care workers are under the direction of a trained laser operator.
Equipment preparation
Equipment includes the laser being used, a laser checklist, a smoke evacuator if necessary and personal protective equipment. Warning signs specific to the laser must be displayed conspicuously at all entrances to areas where lasers are in use. Plume and noxious fumes must be evacuated through filter systems that are used in accordance with manufacturers written instructions. High-filtration surgical masks for laser use must be worn during procedures that produce plume.
Fire dangers
Fire danger must be mitigated through appropriate use of alcohol-based antiseptics. Flame resistant drapes or moistened fabrics should be used to drape the operative site. A basin of water or saline and a fire extinguisher should be easily accessed. Electric circuitry in the area of a laser should have adequate amperage to meet the power requirements of the specific laser. Liquids should NOT be placed on the laser unit or on or near the foot pedal.
Coat any exposed facial hair with water-soluble lubricating jelly to make it non flammable. Do not use alcohol. If O2 is in use the anesthesia provider is to notify the surgeon, who is responsible to indicate to the anesthesia provider when to stop supplemental O2 prior to the beginning and during use of the laser.
Eye protection
Eye safety protection with appropriate wavelength and optical density must be worn by all medical personnel in the operating room. Patient eyes must be protected by either moistened eye pads for a CO2 laser or by goggles specific to the laser wavelength. Appropriate eye wear should be available near the posted "laser in use" warning signs.
The Laser Safety Office role
The Laser Safety Officer (LSO) should provide medical laser safety protocols and continuing education to medical personnel, who should be required to demonstrate the appropriate skill level before assuming responsibility for operating medical laser equipment. The LSO must ensure that the laser being used should be test-fired prior to the arrival of a patient in the operating room, as recommended by the manufacturer. The laser beam should NEVER be directed at any person, except when used on the patient.
Procedure cleanup
At the conclusion of the laser procedure, the laser and its attachments should be wiped down with an approved antimicrobial solution.
How can we help?
If you are responsible for your surgical laser safety, you should ensure your employees obtain the best safety training available and sign them up for our courses for Healthcare Laser Safety and Healthcare LSO certification today.
Or see our Cosmetic Laser Safety and Cosmetic LSO Certification courses if those apply to your organization and get certified today.
We also have an FAQ section with common answers about our courses, certification options and kit offerings. Get started now. It's easy and our courses are on-line for you to use at your own speed.