New Laser Weed Control Options For Farming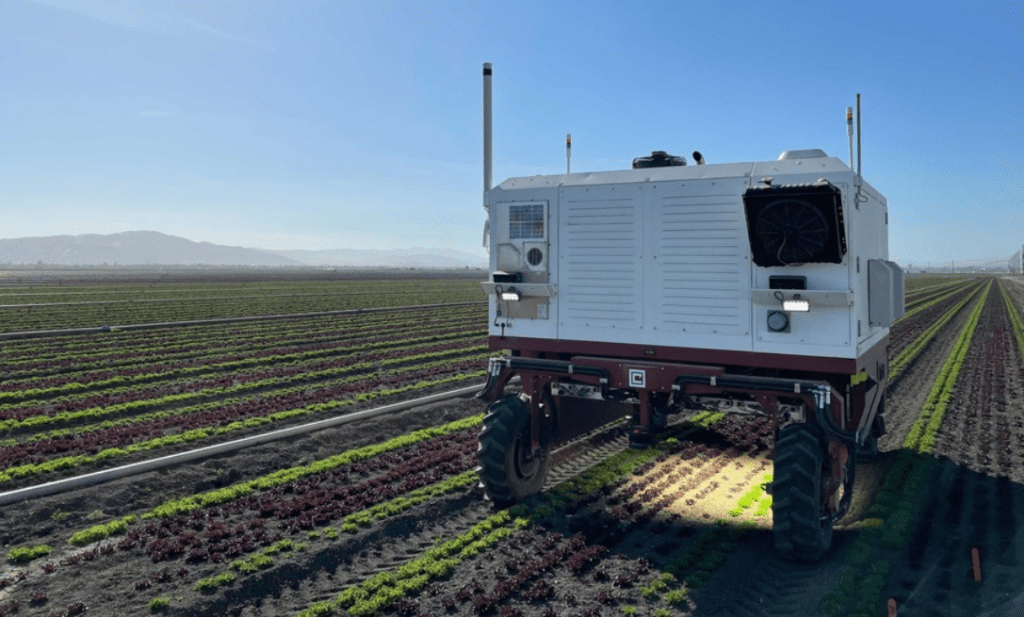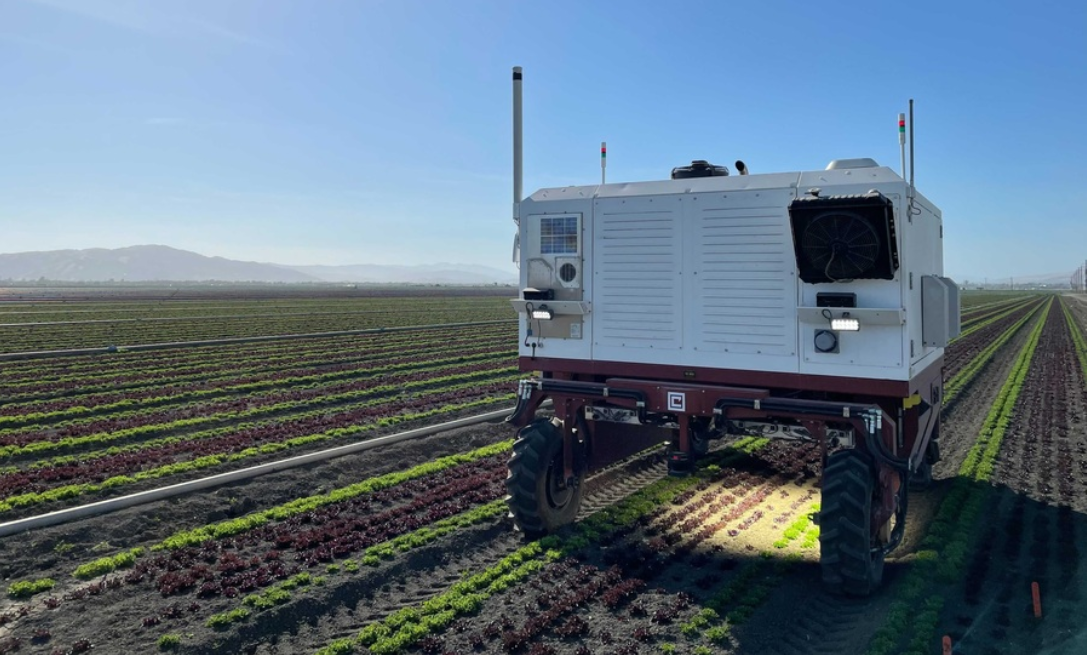 Farmers increasingly rely on technology in the field to gain crop growing cycle efficiencies from seed planting to harvest. The autonomous LaserWeeder from Carbon Robotics, based in Seattle Washington, is one new automated device providing innovation to the weed removal process.
Farming Innovation
A recent article in Successful Farming magazine (online at Agriculture.com [1]) described how this new machine leverages robotics, AI and laser technology to identify, target and eliminate weeds while not harming the produce or row crop being farmed.
The original autonomous LaserWeeder weed management solution is a machine similar in size to a midsize tractor. It goes between rows of plants and can kill up to 100,000 weeds per hour. Using 20 high-resolution cameras, the onboard computer uses trained AI to recognize a given crop and identifies weeds, and then 8 high-powered Class 4 lasers zap the weeds without harming the crop itself. The weeds are killed at what is called the meristem to eliminate future growth and cell division, all without affecting the crop or disturbing the soil. The beauty of the system is it can run all day and night and in all weather conditions with a typical speed of one to two miles per hour.
We have included a series of videos below (linked at the end of this article) that show the LaserWeeder in operation [5], provide a more detailed view of how it works [6], and include a demonstration from the 2022 World Ag Expo. [7]
Autonomous weeding using lasers
According to Paul Mikesell, founder and CEO of Carbon Robotics, the LaserWeeder's "CO2 lasers feature 3mm accuracy and are ready to fire every 50 milliseconds." [2]
The 9500 pound machine can traverse fields up to five miles per hours and clear between 15 and 20 acres per day. The LaserWeeder uses 74-hp diesel engine and consumes about 22 gallon in 20 hours according to a trial in New Mexico. [3] It has an 80-inch track and can work one 80-inch or two 40-inch rows, with its height accommodating crops up to 3 feet tall. The machine uses cameras to find and follow the furrows, and it uses GPS guidance and geo-fencing to stay within the target field boundaries.
Although currently focused on use in specialty crops like broccoli and onions where crop heights are 3 feet or less, the company will be testing the process on corn, soybeans and wheat.
Exact pricing is not shared, but prices are said to be comparable to a midrange tractor or between $25,000 and $50,000. The current model is designed for farms of 200 acres on up, but there are plans for a smaller scale option to be introduced in 2023 or later says Mikesell.
Growing safer crops more efficiently
Farmers are always looking for ways to save money, especially on organic produce. Herbicide-resistant weed varieties continue to grow and evolve. The precision of the LaserWeeder reduces the use of herbicides which benefits soil health. The company can show an 80% reduction in weed control costs with a return on investment in about 3 years. Crop quality is also higher than when herbicides are used.
New LaserWeeder model for 2022
The new 2022 LaserWeeder unveiled by Carbon Robotics in February 2022 is upgraded to include 30 lasers spanning three crop rows or roughly 20 total foot of width, and is adjustable for crop rows from 60 to 84 inches. [4] This new model is also designed to be towed by common row tractor using a three-point hitch.
How Laser Safety Certification can help
At Laser Safety Certification, we have laser safety courses and Laser Safety Officer (LSO) certification programs to make sure your team are correctly using lasers and your customers are protected. We provide certification programs that follow the OSHA recommendations and ANSI guidelines for laser safety.
For more information about industrial laser safety, check out our courses for Industrial Laser Safety and Industrial LSO certification. For more information about medical, health care, or veterinary laser safety, check out our courses for Healthcare Laser Safety and Healthcare LSO certification today. For cosmetic laser safety, see our Cosmetic Laser Safety and Cosmetic LSO Certification courses for more information. We also have an FAQ section with common answers about our courses, certification options and kit offerings for your LSO to manage your own safety program.
References
[1] Agriculture.com, Autonomous LaserWeeder: https://www.agriculture.com/technology/crop-management/autonomous-laserweeder
[2] AgWeb, Weed Wars: https://www.agweb.com/news/crops/crop-production/weed-wars-laser-beam-technology-may-fundamentally-change-farming
[3] Modern Farmer, Will Laser-Weeding Robots Change Farming: https://modernfarmer.com/2021/12/laser-weeding-robots-laserweeder/
[4] BusinessWire, Carbon Robotics, new for 2022 model: https://www.businesswire.com/news/home/20220207005189/en/Carbon-Robotics-Unveils-New-LaserWeeder-with-30-Lasers-to-Autonomously-Eradicate-Weeds
[5] YouTube, Carbon Robotics Laser Weeder (Laser Weeder details): https://youtu.be/qleu3NJ8eWY
[6] YouTube, Carbon Robotics Killing Weeds With Lasers (how it works): https://youtu.be/TefzW9L7C5M
[7] YouTube, 2022 World Ag Expo demo: https://youtu.be/lLaV15vpSJM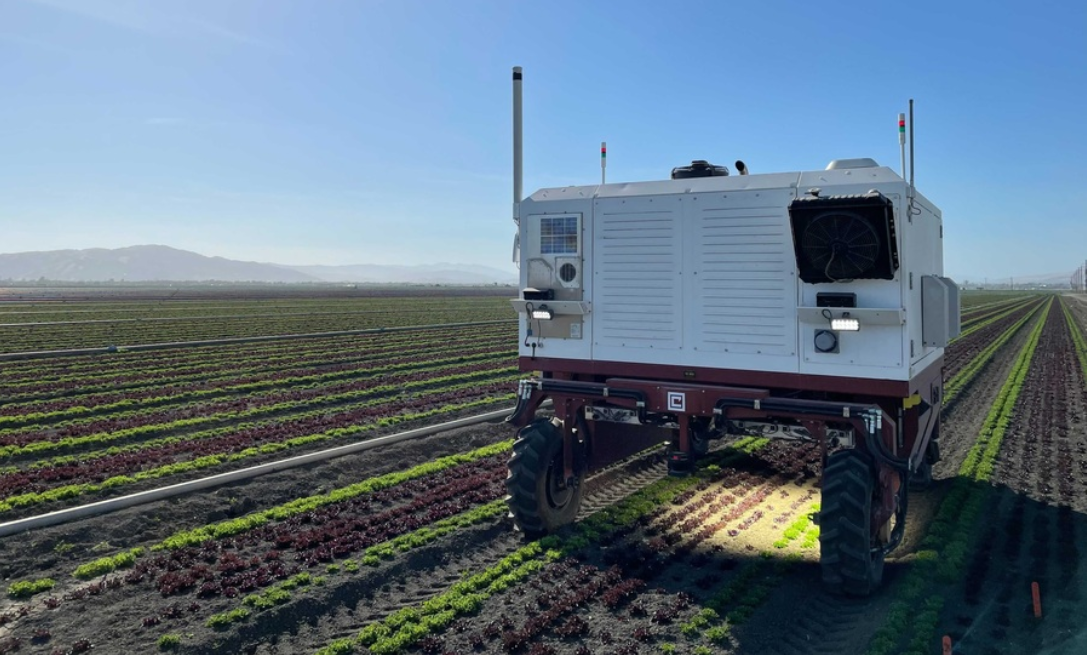 Image credit: Carbon Robotics