Phoenix Laser Safety Certification Options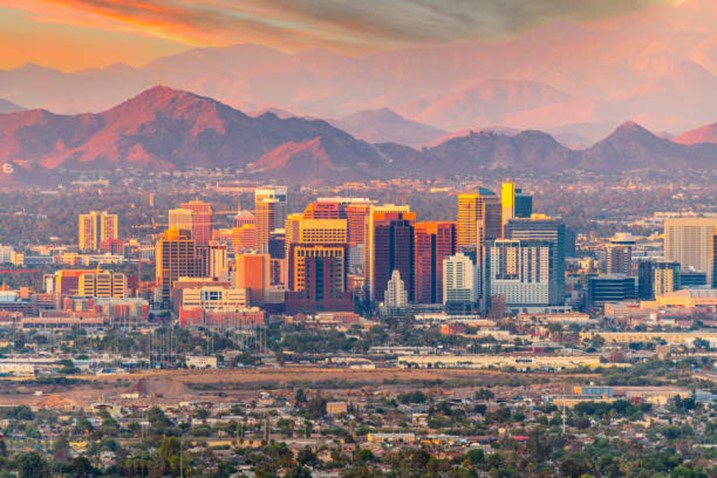 Get Phoenix Laser Safety Officer Certification Today
Get Laser Safety Officer Certification in Phoenix / Get OSHA Compliant Today  Sign up with lasersafetycertification.com!
Do you hire operators or technicians of Class 3b and 4 lasers in Phoenix, Arizona?  OSHA mandates you have a Laser Safety Officer.  In Arizona, the Bureau of Radiation Control requires that your LSO submit proof of training with the LSO Acknowledgement form located at https://www.azdhs.gov/documents/licensing/radiation-regulatory/forms/nonionizing-lso-statement.pdf.  LaserSafetyCertification.com, the leader in online, OSHA-compliant industrial, healthcare and cosmetic laser safety officer training, has a great selection of courses for Phoenix.
Why do companies use LSC for their laser safety certification in Phoenix?
Headquartered in Phoenix
Attentive, supportive customer service
Best value for LSO certification in Phoenix
Complete, comprehensive OSHA compliance
Online convenience
Look no further than LSC for your laser safety officer certification in Phoenix.   From laser cutters and  welders to surgeons and aestheticians, we are the best solution!
$149 – Industrial LSO Online Course (https://www.lasersafetycertification.com/industrial-lso/)
$199 – Healthcare LSO Online Course (https://www.lasersafetycertification.com/healthcare-lso/)
$199 – Cosmetic LSO Online Course (https://www.lasersafetycertification.com/cosmetic-lso/)
Need training for your entire staff?  Get everything you need with our Industrial, Healthcare and Cosmetic Laser Safety Kits – From $299 to $349. (https://www.lasersafetycertification.com/products/)
Need a designated Laser Safety Officer AND training for your entire staff?  Get both the LSO course and the Kit bundled together for a special discounted rate.
Sign up today (https://www.lasersafetycertification.com/checkout/courses2) for laser safety officer certification in Phoenix.  It's the best thing you can do for your business and your employees.  Protect your company.  Give your laser technicians the safety they deserve.  And gain new peace of mind with LSC.  Click here to get started with Laser Safety Officer certification in Phoenix!
Importance of Phoenix Laser Safety Officer Certification
The Phoenix market for laser safety officers is competitive, and business owners can't risk neglecting safe workplace practices, which include ensuring each of their laser operators has been properly trained and certified.   Our curriculums are all OSHA and ANSI compliant and meet the requirements set by Arizona regulations.
OSHA Requirements for Laser Safety Officer Training in Phoenix
OSHA regulations make it the employer's responsibility to provide a safe working environment.  Laser safety officer certification is not just a smart business practice but mandated in the case of  Class 3b and Class 4 lasers.   Below is a partial list of requirements for a laser safety officer training program:
Maintenance or service on Class 3b and Class 4 laser is only to be done by trained technicians
Investigate, document and report all incidents
Ensure authorized personnel are trained in laser safety
Evaluation of hazards in the laser environment
These topics and much more are covered in all 3 of our laser safety officer certification programs.
LaserSafetyCertification.com has helped countless businesses, individuals, safety managers and others throughout the Phoenix metropolitan area receive the Phoenix laser safety certifications they need to protect the assets of their businesses and ensure the safety of workers, customers, patients and others.  Failure to comply can result in substantial fines, severe penalties and expensive litigation.
When you choose LSC to certify your Phoenix LSO's, rest assured you've chosen the best training.
If you hire uncertified and unlicensed operators, it is important that you have them trained and certified as soon as possible.  With a minimal time commitment, which varies between courses and individuals, you can protect yourself and your employees against OSHA fines and penalties.
GET CERTIFIED TODAY