Tattoo Removal Market Growth Around the World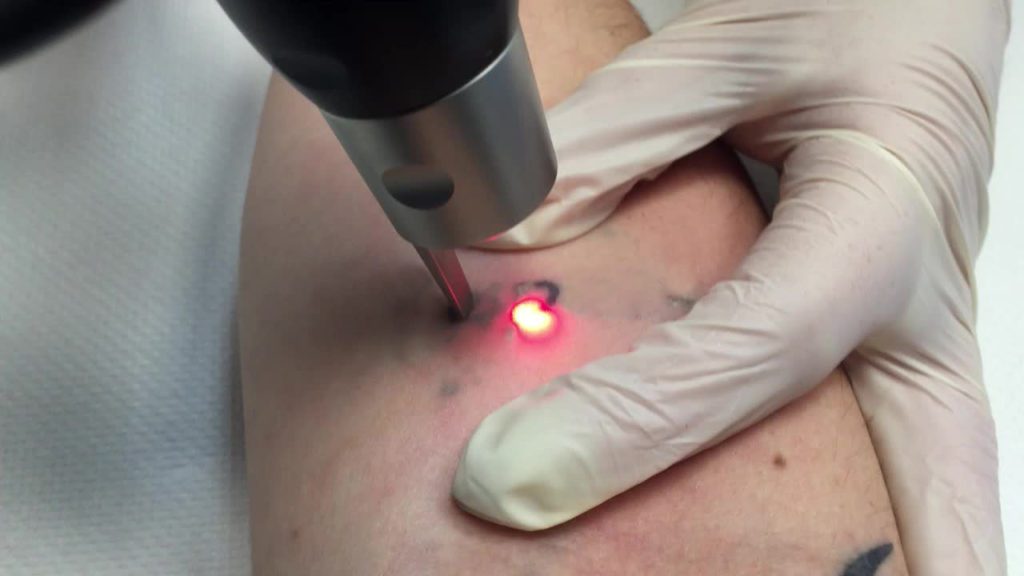 Laser Tattoo Removal
The tattoo removal market continues to grow as multiple methods including lasers are available. There is worldwide growth in the procedure, but there are still a number of adverse risks to consider.
Laser tattoo removal uses the physical properties of photo selective thermolysis in order to remove tattoo pigment. This technique has gradually improved over time with the development of Q-switched lasers, with overall good results and a relatively low degree of adverse effects. However, lasers cannot always erase the unwanted tattoo completely, and there are still risks of unwanted effects such as scarring, pigment changes, ink darkening, and potential aggravation of latent skin conditions. [1]
Tattoo Market Study
A recent study by Allied Market Research [2] notes the global tattoo removal market size was valued at $478 million in 2019, and is projected to reach $795 million by 2027, registering a CAGR of 19.3% from 2020 to 2027. This study includes a good overview of the tattoo market and background on the various treatments and procedures:
"Tattoos are temporary or permanent markings on the skin. Majority people who are getting their skin tattooed are aged 18 to 24 years. Tattoo removal is a procedure of removing permanent tattoos from skin. Tattoo removal procedure is undertaken by using surgical, laser, creams, and other procedures. Other procedures include intense pulsed light (IPL) therapy, deep chemical peels, and Rejuvi. There are different types of lasers such as Q-Switched Nd-YAG laser, Q-Switched Alexandrite laser, and Q-switched ruby laser used to remove black as well as colored tattoos." [2]
"Increase in number of tattoo removal procedure, rise in adoption of laser tattoo removal procedures, surge in preferences for minimally invasive techniques, and increase in public awareness toward tattoo removal procedures are the major factors that drive growth of the tattoo removal market. In addition, change in lifestyle and constantly changing fashion trends has raised the demand for tattoo removal in the market. Moreover, wide availability of tattoo removal creams and introduction of multi-color tattoo removal equipment are some other factors that contribute toward growth of the market. However, high cost associated with tattoo removal procedures is expected to restrain the market growth. Moreover, technological advancements in tattoo removal methods such as intense pulsed light therapy are anticipated to offer high growth potential for the tattoo removal market during the forecast period." [2]
For more details and a visual overview of the process, please view the following video from Tech Insider [3]:
It is important that cosmetic and healthcare organizations have a Cosmetic Laser Safety Officer (LSO) to provide employee training for the proper handling of laser equipment when performing tattoo removal procedures. Cosmetic Laser Safety Officer training and certification for key staff members and laser safety training for all employees that use laser enabled devices is an important part of any safety program that will help protect staff and clients. An ongoing LSO administered training program will ensure that all employees stay up to date.
How Laser Safety Certification can help
At Laser Safety Certification, we have Cosmetic Laser Safety and Cosmetic LSO Certification online laser safety courses your cosmetic laser technician or tattoo removal technician can access today to become certified. We provide OSHA compliant laser safety training for estheticians, cosmetic laser technicians and tattoo removal technicians. Our on-line and easy to use LSO certification courses can help you become a Laser Safety Officer to administer a laser safety program for your entire team.
Click here to enroll your company to get started today. We also have an FAQ section with common answers about our courses, certification options and kit offerings, or send us an email at info@lasersafetycertification.com if you want more information about how we can help your business use lasers safely while protecting your employees and your customers.
Sources
[1] Karger, Tattoo History and Unwanted Effects: https://www.karger.com/Article/Fulltext/369191
[2] Allied Market Research: https://www.alliedmarketresearch.com/tattoo-removal-market
[3] TechInsider Laser Tattoo Removal process: https://www.youtube.com/watch?v=rPdijJrcxdI
[4] WebMd notes: https://www.webmd.com/skin-problems-and-treatments/laser-tattoo-removal
[5] How laser tattoo removal works: https://newlooklasercollege.com/how-tattoo-removal-works/