Using Laser Scanning to Research Historic Buildings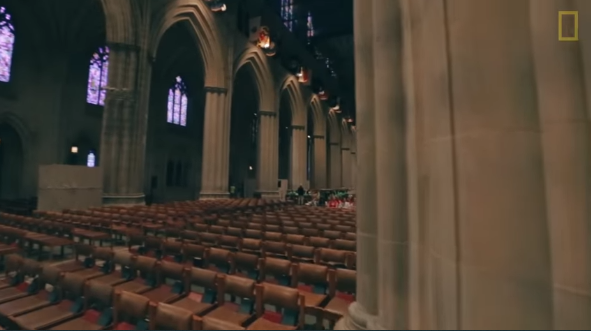 LiDAR scanning is a common technique used to validate new building construction. It is also increasingly being used to measure older buildings for changes or to detect unrecorded features.
Scanning the National Cathedral
In 2015, the late Vassar College Professor Andrew Tallon utilized 3D laser scanners to create a digital model of the National Cathedral in Washington, DC. The video above [1] captures the details of laser scanning and show the results of the 3D model built.
This is a modern use of laser scanning to give insight into existing buildings when their original plans has been lost or the building may have been altered. It also detects small changes from damage or settling as well as capturing unexpected changes made during construction. Laser survey is a well known technique for outlining a building during construction, or for validating a building is built true to plan. This new use for laser scanning (essentially a LiDAR scan) inside existing buildings can both measure capacity and volume as well as detect unexpected changes. LiDAR based scanning [2] uses high-quality scanners that use laser beams and shadowing to collect data relating to objects and surfaces. The resultant data collection allows a detailed 3D interior and exterior view to be created.
How Laser Safety Certification can help
If your organization is using Laser enabled equipment, we can provide simple and quick Laser Safety Certification courses that your team members can complete on-line to help them understand basic safety steps for laser handling and PPE usage. Our courses are based on the OSHA guidelines for proper laser safety handling and help you get your employees certified.
If your organization is using Laser equipment for a manufacturing, testing or laboratory environment, we also have Laser Safety Officer (LSO) certification programs you can use to comply with the OSHA requirement to have an onsite LSO to supervise your laser usage. If you already have an LSO, we also have Laser Safety kits that your LSO can use to administer your own on-site laser safety program for your employees. We can help you get your LSO certification (when you don't have it) and we can help your LSO manage your laser safety program (after your have your LSO or their deputy LSOs in place).
We also have courses and certification programs for Medical / Healthcare, Cosmetic and Veterinary laser safety certification. See our Cosmetic Laser Safety and Cosmetic LSO Certification courses for more information if those might apply to you. Or check out our courses for Healthcare Laser Safety and Healthcare LSO certification and get certified today.
We also have a FAQ section for common answers about our courses, all of our certification options and kit offerings, or get started today by enrolling your company. Or you can email us at info@lasersafetycertification.com if you want more information about how we can help your business use lasers safely while protecting your employees and your customers.
Sources
[1] National Geographic video describing Professor Tallon applying this process to the National Cathedral in Washington, DC in 2015: https://www.youtube.com/watch?v=jAi29udFMKw&t=1s
[2] NOAA LiDAR definition: https://oceanservice.noaa.gov/facts/lidar.html
The related National Geographic article describing Professor Tallon's work on both the National Cathedral and the Notre Dame Cathedral (including a scan completed before the 2019 fire): https://www.nationalgeographic.com/adventure/article/150622-andrew-tallon-notre-dame-cathedral-laser-scan-art-history-medieval-gothic