What's in the Laser Safety Officer Laser Safety Kit?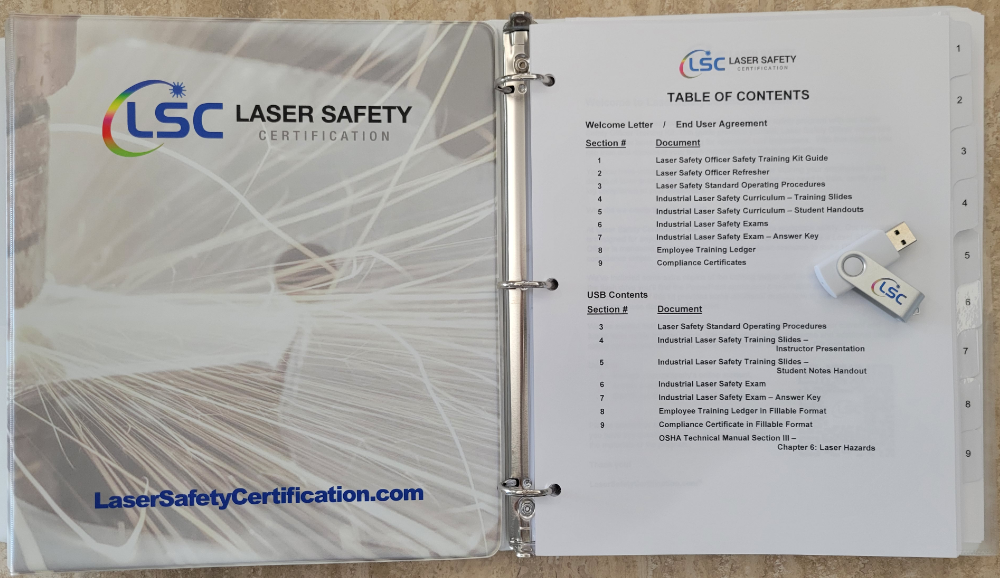 If you're a company in need of a Laser Safety Officer (LSO) and you also have employees who need basic laser safety training, our laser safety kit takes care of both those needs.
Whoever you assign to the LSO course will take it online at their leisure. That person will automatically receive a certificate when the on-line course is completed. Meanwhile, back here at LSC headquarters, we will be putting together your LSO Laser Safety kit that will be sent out via USPS priority mail.
What is in the Laser Safety Officer Laser Safety kit?
I bet you're wondering what's in the kit. Here are the details!
The LSO kit is a binder full of important documents to assist your company with its laser safety training program. If OSHA ever visits your facility, you can pull out the binder and show them your training program and student compliance log.
A LSO Refresher document for easy access. It highlights the most important details of the LSO course. Very handy.
A LSO Standard Operating Procedures document to use in your organization. It is fillable and customizable for you to document your laser safety program.
A paper copy of the laser safety course along with student note handouts.
Paper copies of the exam to hand out to students.
Of course, a copy of the answer key is provided as well.
Student training and compliance log showing the date each employee took the course.
Paper copies of successful completion certificates to keep on file for each student.
A copy of the OSHA laser safety section, just for convenience.
AND most useful of all, a USB drive of all the important documents and the course in PowerPoint format.
All of this comes at an amazing cost of $349 for the Industrial kit bundle.  Why is this amazing?  Because the Industrial LSO course alone is $149 and each basic Industrial laser safety course is $69.  So if you have more than 6 employees that need basic laser safety training, it's a bargain because you can train an UNLIMITED number of employees.
Do you already have a Laser Safety Officer?
Do you already have a Laser Safety Officer and want details to help administer your own safety program?  Then just buy our Industrial kit as a standalone product for $299.
Are you in a medical, cosmetic, healthcare or veterinary practice?
If so, your needs are more than just industrial concerns. We also have an LSO Course or Kit Bundle that meets your needs– we have Medical/Healthcare or Cosmetic– for a LSO laser safety training kit to establish your workplace laser safety program.  We are here to answer any questions.  The Medical and Cosmetic courses and kits include additional FDA and OSHA mandated details for safe laser handling for your staff and your clients in a healthcare practice; they are priced at $449 for the kit bundle (includes one online LSO course), $349 for safety kit alone, $199 for the LSO course and $99 for the basic safety course.
Of course, if you prefer to have your students all be able to take the courses on line, once you sign up as the employer, you can return to our website and enroll new students as often as you need to.
Start the new year off right by becoming compliant with OSHA rules.
Still have questions?
Just email us at info@lasersafetycertification.com or check out our FAQ section for answers to common questions.
Ready to be compliant? Click here to enroll your company. You won't regret it.
Here's to a safe and healthy new year! (We could all use it for sure)