Why You Need the Laser Safety Officer Kit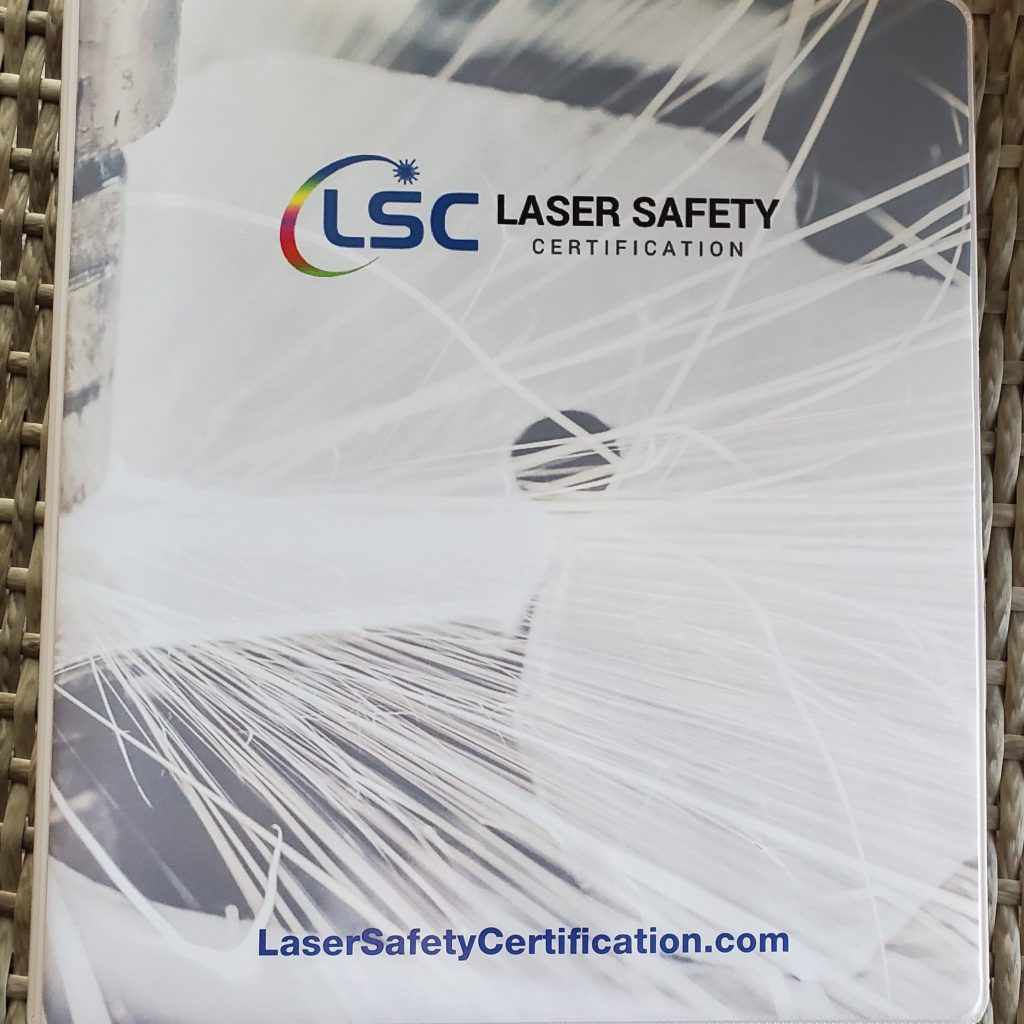 Here at Laser Safety Certification, we are hyper focused on workplace safety.
Lasers are used in so many types of environments for so many different uses it becomes challenging to offer one solution to every workplace situation. So we're constantly reviewing our materials to be sure we're offering the best possible training.
If you're an employer, you want your employees to feel safe. Whether you run a laser engraving shop, a metal fabrication business, an autonomous car LIDAR lab, a tattoo removal parlor, an optical laser facility, a medspa, a laser hair removal facility, a veterinary treatment practice, a sports medicine therapy business or a surgical practice, you could be exposing your employees and your clients to laser hazards. This creates the potential for tragic and costly injuries.
Laser Safety Program
Most injuries are the result of carelessness and deviation from safety procedures and therefore are completely avoidable!
If you're an employee operating a laser, you need the education and training specific to the laser system. Your employer may task you to get a laser safety officer certification and establish your company's safety protocols. You may also be responsible for educating other employees in laser basics so they understand the potential risks.
Industrial Laser Safety Officer kit
That's why we created our Laser Safety Officer Kit Bundle. It allows you to take the Laser Safety Officer (LSO) course online and, with the kit, set up a basic laser safety training program for an unlimited number of people!
The Kit is based on ANSI Z136.1 and contains everything you need to set up your training program:
PowerPoint presentations of the course curriculum
Printed exams
Blank certificates
Training log
Laser Safety Standard Operating Procedures checklist
All of this comes on a USB thumb driver for your LSO to do the training from any laptop of desktop computer.
The Industrial LSO Kit Bundle is only $349 which is a huge savings if you have many employees to train. If you are already a LSO then buy the standalone Industrial kit for $299. And registering your company is free.
Medical Laser Safety Officer options
We also have Healthcare and Cosmetic Laser Safety Officer kit options available. These kits are based on ANSI Z136.1 & Z136.3 and include curriculum comprehensive to the Certified Medical Laser Safety Officer (CMLSO) topic.
Our Healthcare and Cosmetic LSO kits include all the pieces listed above and are priced at $449 which is a huge savings if you have many employees to train. If you are already a LSO then buy the standalone kit for $349. And don't forget that registering your company is always free to get started..
How to get started
In just a few simple steps you can get started today.
Select your kit of bundle option
Register the employer by adding your contact information
Pay for your selection with a credit card
For the bundle, add the student details (email and login/password) and assign the online LSO course
The course and exam will become immediately available to the student and the Kit will be shipped in 2-3 business days.
We hope you're as fixated on workplace safety as we are and will get started today.